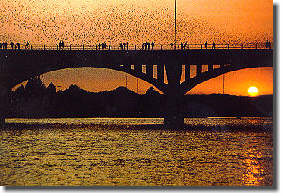 Mexican freetail bats emerge from underneath
the Congress Avenue Bridge, Austin, TX
Austin, Texas is home to the largest colony of bats in North America living in an urban environment. The colony lives under the Congress Avenue bridge over Town Lake. Located about a mile south of the state capitol in downtown Austin, this bridge offers one of the most picturesque spots in the world to view bat flights, especially during late summer. With a population of one to three million Mexican freetail bats, the Congress Avenue Bridge is home to the largest urban bat colony in North America. Thousands of tourists witness the bats' twilight emergence, from March through November.
Central Texas has many other large bat colonies, including Bracken Cave northwest of San Antonio (twenty million bats,) the Eckert James River Bat Cave near Mason (six million bats) and a new urban bat colony living under a bridge on IH-35 near Round Rock, Texas. Throughout Texas, road bridges are being designed to attract new colonies of friendly and beneficial bats.
In tribute to our winged friends, the citizens of Austin have erected a bat sculpture on Congress Avenue, just south of the bridge. The local professional hockey team is even named the Austin Ice Bats! More information about the bats of Central Texas can be obtained from Bat Conservation International. They publish a Viewer's Guide to the Bats of Texas. You can also call them at +1-512-327-9721.